Room Descriptions
Pinestead Farm Lodge is an old family farmhouse that has been renovated into efficiency units. Currently, we have three 3-bedroom units: the "Milk Rooms", "Pie Alley" and "Loom Rooms", each with 3 bedrooms, 1 kitchen and 1 bath, and one 2-bedroom suite called "The Pantry".
---
The Milk Rooms
In the late 1800's Pinestead was a dairy farm. The hired hands would milk the cows twice each day and bring the fresh milk into this section of the farmhouse. Here the cream was separated from the milk in a "separator". The skim milk was fed to the pigs, and the cream was put into milk cans. One of the milk cans the Sherburns used is in the lobby just outside the doorway into this unit. The milk cans were stored in a large tub of spring water in the barn to be kept cool until the milk was picked up by the buyers.
Our rooms are clean and simple. Each has a double and a single bed, a bedside table, bureau and chair. A Pinestead Patchwork Quilt, made here at Pinestead Farm Lodge, adorns every bed.
Our kitchens are fully equipped with a gas oven and stove, refrigerator, toaster, microwave, coffee pot, pots, pans and utensils. We also provide linens, towels, dish soap, and salt and pepper.
---
Pie Alley
In addition to hot or cold cereal, steak or ham, eggs, pancakes, toast and doughnuts, summer guests at Pinestead Farm Lodge were served pie at breakfast. One evening Aunt Susie finished baking the pies and put them to cool in the kitchen. Myra was supposed to be watching things, but she was tired, and after all, her sister Grace was with the boarders who were still up, so Myra went to bed. When the guests finished playing shuffleboard, around 1:00 AM, they were hungry. Grace looked for Myra to see if some of the pies might be eaten. Now, Grace has always had a bit of the devil in her. When she found Myra asleep she went back and said it would be all right. The pies were quietly carried off to these rooms in the south end of the house and eaten…every single one. No one had pie for breakfast, the incident was joked about all summer, and these rooms have been called "Pie Alley" ever since.
All of our 3-bedroom units can accommodate up to a maximum of 9 people, yet each is laid out differently. "Pie Alley" has a larger kitchen and living room area, which makes it nicer for families and large groups.
---
The Loom Rooms
Before these rooms were used for guests, they had been the hired-girls quarters. Before that, Joe Sherburn kept his bees here. And before that, this was attic space where the family loom was set up. The loom occupied a space equal to two of these present bedrooms. Myra said that her mother remembered being a little girl, sitting on a stool by the loom, while her aunts wove tablecloths and bedspreads for the household.
The Loom Rooms has a long, bright, narrow kitchen with no separate living area or couch. However, the views from the windows of the "Loom Rooms" are magnificent. They face the east where beautiful morning sunrises and afternoon alpine glows shine on the mountainsides.
---
We have a barbecue grill for our guests to use, and picnic tables on the lawn so you can cook and eat while you enjoy glorious summer afternoons, and crisp clear fall days, surrounded by mountains.
---
The Pantry
"The Pantry" is our newest unit. It was renovated in 1996 with the idea of giving our guests a vacation suite that offers more room and more privacy. Originally, this is where the meals were prepared when the Sherburns fed their "boarders". They had a wood cook stove and a dutch oven where pies, baked beans, roasts and other hearty meals were cooked. "The pantry", as it was known back then, stored their canned goods, flour and sugar, as well as all of their baking needs.
"The Pantry" has a bright, spacious kitchen with a lot of counter space. There is a family size refrigerator and stove which makes cooking convenient for large groups.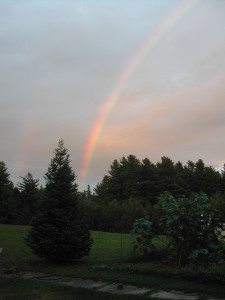 The Pantry is rented out by the unit only with a minimum of 2 or 3 nights throughout the year. The maximum capacity is 5 people.
For information about making reservations and our policies at Pinestead Farm Lodge please visit our Policies page.