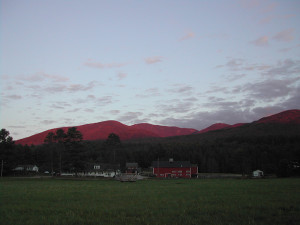 Contact Us
By Mail:
Pinestead Farm Lodge
2059 Easton Rd
Franconia, NH 03580
By Phone:
603-823-8121
By E-Mail: info@pinesteadfarmlodge.com
Pinestead Farm Lodge Policies
Check In: By arrangements made at the time of your reservation.
Check Out: 10:00 AM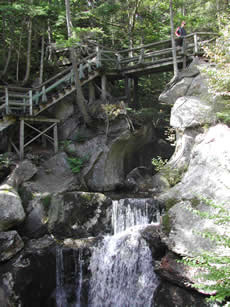 At the time you make your reservation we will ask you what time you hope to arrive. We don't really have an "office", nor do we have a desk clerk. Usually there is someone on the farm every day, but we are often busy in the garden, doing yard work and maintenance, making quilts, out hiking, or simply doing errands. For this reason, at the time you make your reservation we will ask you what time you hope to arrive. We just want to be sure that you do not get here and find there is no one around to greet you.
When you do arrive, please come in through the "Office" door, up a few steps onto a landing. On your left is a white in-house paging box on top of an old fashioned radio. Please press the paging button and someone will be with you within a few minutes.
WE ARE SORRY, BUT WE DO NOT ACCEPT CREDIT CARDS.
Reservations: The best way to make reservations is over the phone. At the present time we only accept personal checks, traveler's checks or cash. To hold a reservation we will need a check for half of the amount of your stay mailed to us at Pinestead Farm Lodge, 2059 Easton Rd, Franconia, NH 03580. You may make an email reservation, but we will need to have received your deposit prior to the reservation being confirmed.
Deposit: We require a 50% deposit with all reservations.
Confirmation: After we receive your deposit we will either mail or email you a confirmation (your choice), specifying your dates of arrival and departure, the balance due, which will include N.H.'s 8% rooms tax, and our cancellation policy.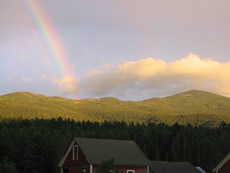 Cancellation: Our cancellation policy varies with the time of year. It can be as short as 24 hours during our slower seasons and as long as 2 weeks during our peak times. The cancellation time for your reservations will be written in your confirmation. If you cancel before that time you will receive a refund only if we are able to rent the space you have reserved to someone else for that same time.
NO PETS: We're sorry, but there are so many reasons we cannot accommodate any pets. There is a kennel about 20 minutes from us where you can drop off and pick up your pet during your stay: www.littletonpetcenter.com
NO SMOKING: No smoking is allowed in any of the buildings.