Area Activities
There is something for everyone of all ages in the White Mountains of New Hampshire during any time of the year. For a comprehensive list of all of the area's attractions you can log onto the White Mountain Attractions website.
Lupines and Lady Slippers abound in early June. Franconia and Sugar Hill host the Lupine Festival each year. For all area events throughout the year, log onto franconianotch.org.
In the summer and fall, many people come to hike. The trails to Bald Knob and Bridal Veil Falls are 1/4 mile away from Pinestead Farm Lodge. There certainly are plenty of hiking trails nearby for all levels of ability. Let us know what you would like to do and we can make suggestions and give you some trail descriptions.
Hiking isn't the only pastime in the White Mountains. There are plenty of places to go both mountain and road biking. You can check out the Franconia Sport Shop for bicycle rentals, information, and suggestions on some places where it should be fun for you to ride. Moose tours are available at the Pemi Valley Excursions in Lincoln, only a half hour away. Horseback riding is also available a mile and a half away, where you can take a plane or glider ride at the Franconia Soaring Center, as well. And, there are several golf courses in the area for you to experience.
Take a refreshing dip in Echo Lake. You can kayak, canoe and fish there, as well as in Profile Lake and some of the rivers nearby. And you can ride the tramway up to the summit of Cannon Mountain to enjoy the breathtaking views. If antiquing is your thing, you will find several shops less than 10 minutes away. Three miles from Pinestead Farm Lodge is the Frost Place where Robert Frost lived for five years and wrote many of his poems. Today, people can tour his house, which is a museum, and is used as a non-profit educational facility for poetry and the arts.
There are thrills and adventure for the whole family in the White Mountains. How about a Summer Safari? This is an action packed, off road experience in a 6 wheel drive military vehicle up Barron Mountain. Alpine Adventures offers even more excitement on their Zip-line Treetop Adventure where gravity zips you down on a course through the tallest trees on the mountain. Whale's Tale Waterpark has a wave pool, slides and a lazy river. Hobo Hills Adventure Golf is fun filled miniature golf played "hobo" style amongst waterfalls and streams throughout the course. Clark's Trading Post has live, trained bears, a train ride, shows and water bumper boats. A gondola ride up to the summit of Loon Mountain to their observation deck and glacial caves is worth the trip.
And you cannot return home without first sampling Polly's Pancake Parlor. Located not much more than 5 minutes from Pinestead Farm Lodge, Polly's Pancake Parlor serves sumptuous homemade pancakes, waffles, and French toast with homemade maple products, jams and spreads while you take in the spectacular views that Sugar Hill, NH has to offer. And while you are in Sugar Hill, be sure to stop by Harman's Country Store, a charming old fashioned red country store famous for their "World's Greatest Cheddar".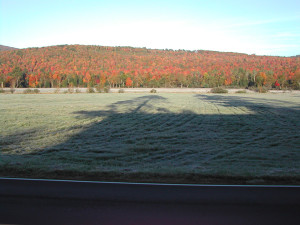 Fall foliage speaks for itself. Sugar and red maples, white and yellow birches, poplars and beech trees are resplendent in their bright hues of reds, yellows and oranges.
The New Hampshire Highland Games are held at Loon Mountain in the fall. So many Scottish activities and events, bagpipes and kilts, all taking place for an entire weekend amidst the splendor of the fall foliage.
Take an hour's drive to Danville, VT's Corn Maze and experience the twists and turns of a maze you can attempt to navigate, constructed solely from corn stalks that were grown in that location specifically to make the maze.
Winter time brings a myriad of activities to the White Mountains. You can cross country ski for free on Franconia Inn's groomed trail system when you stay at Pinestead Farm Lodge. Alpine skiing and snowboarding are less than 10 minutes away at Cannon Mountain, and less than 30 minutes from Loon Mountain and Bretton Woods.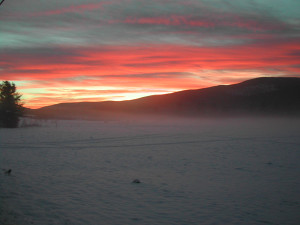 In the winter people also find places to ice climb, ice skate, snowshoe and go winter hiking. Equipment can be rented for skating and showshoeing, as well as everything you need for alpine skiing and snowboarding, at the Franconia Sport Shop located in the center of Franconia village. And, for a truly memorable experience, you can take a horse drawn sleigh ride at the Franconia Inn.
Snowmobiling is another winter sport and Alpine Adventures offers guided tours, along with rentals on all the equipment and the gear you will need. Be sure to check out their new and exhilarating Zip-line Treetop Adventure which is now open all year.
---
Other Area Attractions: